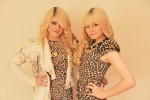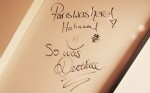 Yesterday was the new girl duo Destineer & paris and girls' favorite from The Jonas Brothets, Joe Jonas, on a visit to Stockholm. The two would be opening for Britney Spears and sat for a few hours and did interviews at the Globe Quality Hotel.

Take yourself there to film an interview with the debutants in the sibling duo Destineer & Paris, which followed with Britney during her European tour. They told how Britney at a signing a few years ago called the sisters of her "babies". And now the touring with her, only 16 to 17 years old. And so they work with RedOne and just released their debut single True Love written by such Rami and Steve Angello of Swedish House Mafia. It's fine now.

The girls were anyway how nice any time. Very down to earth and professional and gave us an acapella mash-up of Gnarls Barkelys Crazy and Adele's Rolling In The Deep. Coming soon fill it up here on the blog.

In the room sat dredvid Joe jonas and did interviews. while Destineer & Paris traveled with her mother had Joe Jonas a large crew with him. You can tell he really is a superstar - and then primarily in the United States. Joe was also really nice, although we did not have time and talk for so long. But he said he avrit in Sweden before, but that it was only this time he had time to see anything because he stayed a little longer. Now he has just released his first solo album and will tour with a show based on it. At the same time, he told me that the other Jonas brothers were involved in various projects in the U.S. and all bets are very pleased with what they did.
Source:
here